Shop with UpIt
Start saving now, even if you don't plan on buying a home for years.
Crowdfund with HomeFundIt
Get the support of your community when you're closer to buying a home.
Do Both
Start with UpIt and crowdfund later, or do both now! The choice is yours.
Shop with UpIt on HomeFundIt:
New HomeFundIt Feature – Only Cash Back Program in the Nation Approved for a Mortgage Down Payment
When you or your friends and family shop with an UpIt retail partner, a portion of the money spent will be placed in a home savings account that can be used when you're ready to buy.

Features
Raise a down payment through everyday shopping.
Up to 20% of every eligible purchase pledged to your campaign.
Get access to coupons, specials, and deals from UpIt retail partners.
Have a group of people shop with UpIt to help you.
Anyone can support you (friends, family, strangers).
You can start raising funds years before you start looking for a home.
Funds are available for a home purchase within 24 hours.
No prequalification needed, start using UpIt in less than 5 minutes.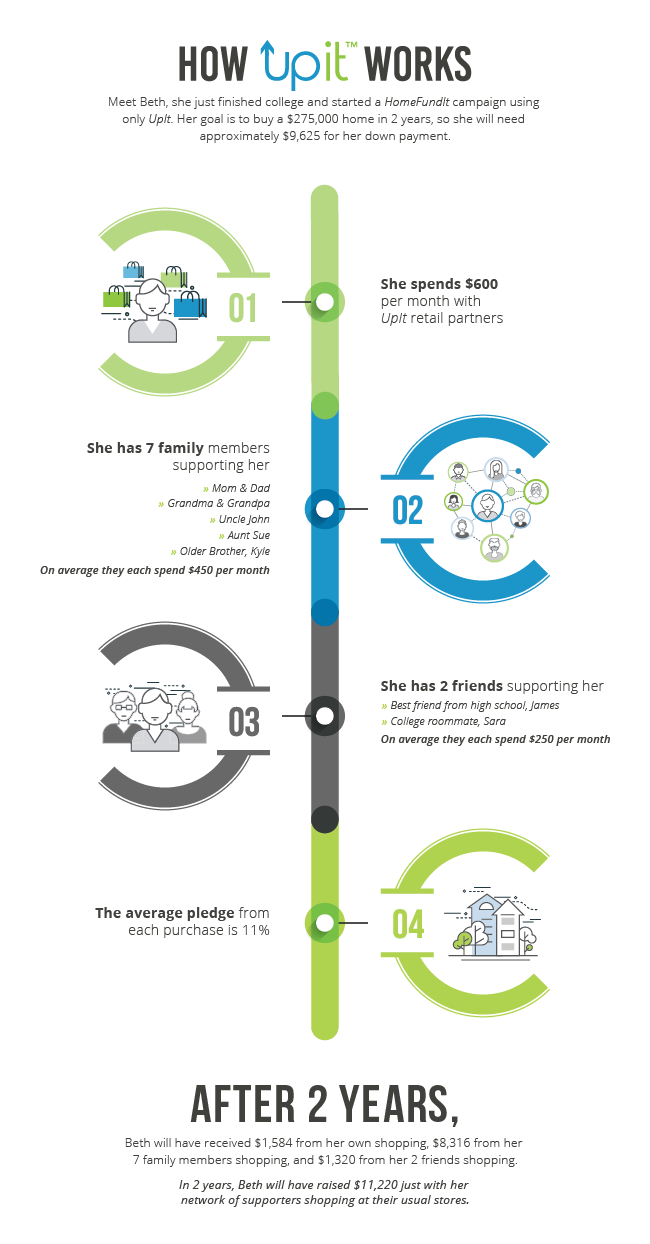 Crowdfund with HomeFundIt:
Over $1.5 Million Crowdfunded - Only Crowdfunding Program in the Nation Approved for a Mortgage Down Payment.
You can have a community of friends, family, and complete strangers make contributions to your campaign to raise a down payment and become a homeowner.

Features
No transaction fees.
Anyone can give.
Easy to share on social media.
Funds available for home purchase immediately.
Contributors have the option to give conditional or non-conditional gifts.
You must get prequalified before you start crowdfunding. Easy to do and online.
Crowdfunding limited to 12 months before home purchase.
Up to a $1,500 Closing Costs Grant opportunity with free home buyer education
Create your HomeFundIt account in just a few steps…
1
Sign up online.
Use your Facebook or email address to create a user account for HomeFundIt. We recommend connecting your Facebook account, so you have access to existing pictures and videos and can easily share your updates and progress.
2
Choose your saving strategy (Crowdfund, Shop with UpIt, or Both!)
Shopping with UpIt is an easy way to start since you don't need to get prequalified before launching. Your campaign can go live in as little as 5 minutes. We recommend this option for anyone who does not plan on buying in the next year or longer, there is no time limit with UpIt.
If you plan on buying a home in the next year, crowdfunding is a great option, since you can raise funds faster, especially if you have an upcoming milestone like a wedding or a birthday.
You will always have the option start with both or add one later. Making changes is simple, all you have to do is go into your HomeFundIt account settings and turn the UpIt or crowdfunding feature on.
3
Build your campaign.
Tell your story and publish updates to share your progress along the way. Upload images that help others get to know you or showcase your dream home. You also have the option to film and share an "Intro" video. We recommend adding visual content like images and video to give potential contributors a better idea of who you are and what you are trying to do. *Please note, in order for your campaign to be searchable by others in our database, you will have to add a picture.
4
Share your story.
Social sharing is as easy as a few clicks, especially if you integrated your account with your Facebook page. Share your campaign on social media and through direct messaging to connect with your friends and family. You can also email the link or include it on a website, like a wedding website.
When you are ready to buy or if you want to start crowdfunding…
1
Get prequalified.
Complete the online application to get prequalified for mortgage financing. Getting prequalified is the first step to getting a mortgage loan and it will give you a better idea of how much you can afford and how much you will need for a down payment.
2
Meet your mortgage team.
When you use HomeFundIt, you get the help and support of an entire team. Here are some of the people you may meet:
Loan Officer – your lender liaison, answers all of your mortgage questions and helps you set an achievable down payment goal.
Realtor – your partner for finding homes, making an offer, and filing paperwork.
Housing Counselor (Optional) – available through federal and local agencies, your housing counselor will help you with homeownership education and sourcing other grants and assistance.
3
Explore your options to raise your down payment.
Crowdfunding – Once you are prequalified, you can start crowdfunding. We have home buyers get prequalified first, so we won't have to return gifts to contributors if you need longer than a year to get ready to buy.
CMG Grant – Up to $1,500 - Get some of your closing costs covered with CMG Financial's grant opportunity.

Exclusive Closing Costs Covered program available for first-time home buyers (as defined by Fannie Mae) for users who complete home buyer education or pre-purchase counseling
CMG Financial will give $2 for every $1 raised via crowdfunding (pledged funds to not apply) up to the lessor of 1% of the purchase price or the amount as noted below:

Up to a $1,500 grant if Home Buyer Education or Pre-Purchase Counseling is completed prior the purchase contract being signed.
Grant funds will be applied to non-recurring closing costs
Instant $100 to start!
4
Start your home search.
When your campaign is active, you will have 12 months to close on your new home. We recommend launching your campaign when you are ready to start shopping! Once you receive your first gift your timeline starts.
5
Purchase your new home.
When you reach your campaign goal, your funds will be ready to apply toward your new home purchase. Welcome home!